Are you looking for a creative and inspiring wellness workshop for your group or organization?
The Writing for Wellness Workshop is offered as an on-site workshop at your location.
About this workshop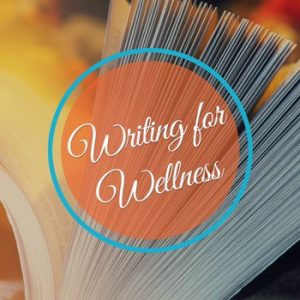 During this workshop individuals learn how to use expressive writing and therapeutic journaling to achieve greater emotional, psychological, physical and spiritual wellness.  Discover how to decrease stress, gain clarity and improve your health by freeing your emotions through writing. Explore writing as a powerful tool for self-care and self-discovery.
This popular Writing for Wellness Workshop introduces individuals to the many healing, wellness and personal growth benefits of expressive writing and reflective journaling.  This interactive workshop invites participants to go to the page in a fun, nourishing and creative way, while also providing a process for meaningful connections with others through the Writing Alone Together™ signature group journaling method.
Participants will learn and experience Life Source Writing™ – a unique five step reflective journaling method that integrates mindfulness, relaxation, expressive writing, inquiry, and affirmation – offering a holistic approach to writing for wellness that people can easily integrate into their lives.
There is no prior writing or journaling experience required to benefit from this workshop.  Seasoned journal writers will also gain benefits from this workshop.
This Writing for Wellness workshop can be customized for specific learning objectives unique to your group, for example, the following are unique applications of expressive wellness that can be taught during this personalized workshop:
writing to mitigate job stress and burnout in high stress occupations
writing to deal with transition, change and to foster resilience
writing to alleviate compassion fatigue and vicarious trauma for professionals who are at risk for these occupational hazards (social workers, healthcare professionals, counsellors, trauma therapists, child welfare professionals, women's shelter staff, humanitarian aid workers, etc.)
writing and storytelling for peer support and team building
writing for clinical use with clients and patients (journaling as an adjunct therapy for healing and growth)
writing for relationship building within groups and organizations
writing for goal setting and visioning
writing to heal trauma and overcome adversities
writing to grieve losses and move forward
writing for improved health
writing for success in business and career
"Writing asks us to settle into ourselves and be awake." Natalie Goldberg
Here's what participants have to say about this workshop…
I participated in a Writing for Wellness workshop in November and have been inspired ever since. I have started to re-engage with creative projects and write in my journal. I hosted a vision board session in the new year with some friends and we plan on having another one in the spring. I believe that Lynda has a special gift when it comes to storytelling and sharing. I left the workshop feeling like I had awakened a piece of myself that had been neglected and ignored for far too long. Thanks so much for sharing your gifts!"
~ Ruth Currie Amherst, NS
"I want to thank you for your wonderful workshop and I would like to say that it has been many years since I looked at my journal.  Yesterday I started to journal again and the Creativity just started to flow. Every time I take out my journal I come to a new realization about myself and I know it can only help me be a better person. Thanks to you I am more certain then ever what my goals are in my life are and by writing all my thoughts each day I will bring them to life."
~ Cheryl Young, Sidney Meet Up Women's Networking Group
"Journaling with Lynda allowed for quiet reflection (even in the midst of a large group) and took me to a place I haven't had the opportunity to visit for a long time.  It reminded me how important it is to get in touch with my thoughts through writing and offered a valuable perspective.  I hope to keep up my writing.  Thank you."
~ Wendy Roberts, Medical Social Worker
"This was an amazing oasis of warmth and reflection in the midst of a demanding, fast-paced life."
~ Kerri Hampton, Teacher
"I found the Therapeutic Journaling for Healthcare Professionals to be an uplifting workshop that was rooted in a deep foundation of social work practice with knowledge and insights that were helpful for both personal and professional development."
~ Michelle Jensen, MSW, RSW, QEII Health Sciences Centre, Halifax, NS
"Freeing, creative, beautiful – thank you for the opportunity to be myself, to find myself again and to allow me the time and inclination to make a commitment to myself."
~ Patti Bauer, Documentary Film Maker
"The writing workshop was Insightful, nurturing, sacred. There is value in reflecting. Questioning the information gained was invaluable."
~ Kelly Hewkin, Graphic Artist
"The workshop opened up a whole new way of looking at writing and how it can be used to critically express your thoughts, feeling and beliefs. At the same time it was a lot of fun and Lynda made me feel safe to try a new approach of personal expression."
~ Connie Kaweesi, Social Worker